Other Technologies That We Use
Although thermal imaging is our main technology that we employ for our inspections, we also have a variety of moisture meters, a digital acoustic microphone, a video borescope and concrete scanning equipment at our disposal.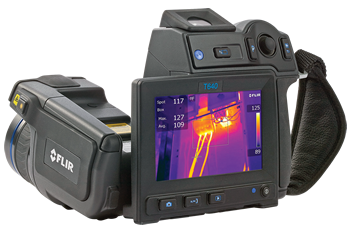 Concrete Scanning

Designed for non-destructive inspection of concrete our equipment uses radio waves and electromagnetic signals to detect structures in concrete. Results provided on site in real time, with the ability to record and export data for advanced analysis and report preparation if required.
Rapid scanning generates 2D and 3D imaging on-site, using the advanced data processing software embedded in our system. Results immediately assist with engineering and construction decisions.
Moisture Metres

We have penetration & capacitance moisture meters at our disposal, which can provide moisture meter readings from a number of building materials to help with our analysis.
The capacitance meters work on a principle of comparing die-electric constants with areas containing moisture/water and do not leave any holes in the surface we are looking at, this makes them ideal for use in conjunction with a infrared camera for a pre-purchase house inspection.
Digital Acoustic Microphone

Our "Xmic" digital acoustic microphone enables us to conduct plumbing waterleak inspections using multiple different technologies to help confirm the locations of leaks.
The "Xmic" is an advanced, electronic ground microphone designed to amplify the noise generated by water escaping from buried supply pipes under pressure. Identifying the position of the loudest leak noise indicates the position of the actual leak itself.
Video Borescope

Our "Trotec" borescope enables us to carry out visual inspections in places that are otherwise virtually inaccessible or extremely difficult to reach. This tool also allows us to document and save the inspection results not only as a photo but also as a video that you can watch at will on an external monitor or transferred to a PC for further processing.